Harvest Assemblies: Focus on Food Shortages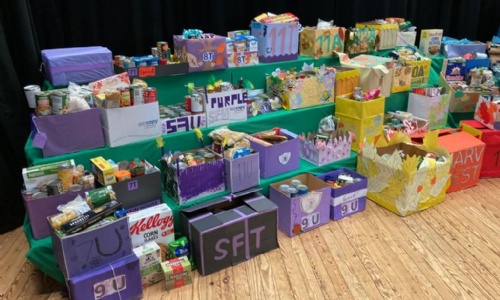 Donations forwarded to Bromley Food Bank and Croydon Refugee Centre
The focus of this year's harvest assemblies was on food shortages.
Students were asked to consider where our food comes from and whether its future availability can, or should, be taken for granted. They were invited to contemplate reasons for shortages in different parts of the world, including the UK, and watched a clip from a video by Thomson Reuters Foundation (below) to learn more about the relationship between the climate crisis and food insecurity.
The harvest assemblies also featured sublime performances by our choirs along with a selection of excellent poetry composed by year 7 students.
Food donated by students, their families and staff (pictured, below) was distributed to some local elderly neighbours, Bromley Borough Food Bank and Croydon Refugee Day Centre.
The generosity and kindness of all those who contributed is warmly appreciated.