SEO Scholars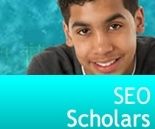 SEO London
offers outstanding GSCE and A level students from under-represented or underprivileged backgrounds the opportunity to become
SEO Scholars
.
With support from alumni of our career programmes as well as volunteers from SEO partner firms and leading universities, Scholars are provided with access to the role models, information and training required to make informed decisions regarding educational progression and career options. The purpose of this support is to ensure more students from these backgrounds excel at school and secure places both with these universities and, ultimately, in industries in which they are commonly under-represented.
From the thousands of secondary school students who applied for the scheme in 2012/13, 750 of the most talented students (with, on average, UCAS predicted grades of AAB) were selected to become SEO Scholars and receive a comprehensive range of additional support services including:
Mentoring from undergraduates at the university and/or subject department they are most interested in as well as from professionals working in the industries they are keen to learn more about

Placements on selective elite university access schemes and summer schools

University, degree subject and careers information

Personal impact skills coaching and university application support (including interview practice for Oxbridge applicants)

Work experience with some of the leading graduate employers in the country

Personal financial education

Access to relevant bursary schemes provided by both universities and also by some partner firms
The purpose of this support is to help Scholars improve their:
Education and awareness about the range of career and university options available to them

Academic attainment

Progression to elite universities

Ultimate progression to the most competitive graduate career paths
SEO hopes to provide continual support to those on the Scholars scheme (subject to their engagement and performance) all the way from secondary school to university and beyond.
Many of SEO Careers' 60+ partner firms also support SEO Scholars in a range of other ways including providing students with work experience, mentors and training. To give you some idea:
In 2013, Barclays alone provided more than 200 Scholars with both work experience and mentors

In 2013, over 150 students were provided with a week of work experience as part of the PRIME initiative at corporate law firms including Freshfields, Linklaters, Herbert Smith Freehills, Latham & Watkins and Taylor Wessing

In 2012, SEO provided more than 300 Scholars with work insight opportunities at leading investment banks Goldman Sachs and Morgan Stanley
Many students on the Scholars programme are not sure they want to go to university - or which careers will best suit them. What all Scholars have in common is that they are intelligent, open-minded, hard-working and keen to learn more about the diverse options available to them.