Bake Off Challenge Delivers Tasty Results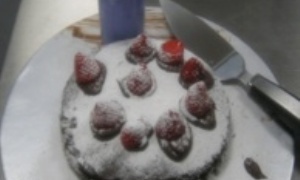 Prospective students produce cakes and desserts that would surely impress Mary Berry et al.
On Wednesday 22nd October, five year 6 students took part in the Food Technology department's Great Norbury Manor Bake Off. Each of the contestants had to make a signature baked dessert which could be prepared and cooked within 1½ hours.
The five finalists were Lana, Kayleigh, Inara, Jamie and Fay Ann. The skills demonstrated by all contestants were of a very high standard for students of such a young age, with the finished dishes featuring excellent decoration, texture, quality and taste.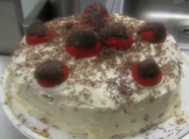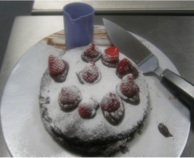 As a result of the high standards, the judges (Shola Fiberesima from The Place of Excellence, which runs a cake decorating course, and Mrs Kershaw, Head of Food Technology at Norbury Manor) had great difficulty in declaring a winner. After much deliberation, they decided to award two prizes: one to Lana for the texture and flavour of her cake (see photo, left) and one to Fay Ann for the skills she demonstrated and her overall presentation (see photo, right).
As an extra prize, Shola invited the contestants to be interviewed the following Wednesday on
EdgeFM
(click
here
to listen to the interview on
SoundCloud
). 'The girls should be proud of themselves,' said Mrs. Kershaw. 'We're looking forward to seeing them again in September.'