Norbury Manor GCSE Results Hold Steady Despite 'Dramatic' National Decline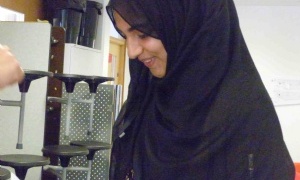 68% receive 5 or more GCSEs at A*-C including English and maths
Students at Norbury Manor have maintained the high standard they set last year with 68% once more achieving 5 or more GCSEs at grades of A*-C including both English and maths.
20% of all GCSE results declared by the college were graded A or A*.
Amanda Compton, Headteacher, said: "It has been a fantastic morning celebrating a brilliant set of results with students and their families. Students and staff have worked really hard to achieve the best outcomes possible. There have been some absolutely outstanding individual results."
Katrina Suhova achieved not only 10 GCSE grades at A* (as well as one B) but an A* in A level Russian.
Other excellent individual performances included those by the following students, all of whom received grades of A* or A in at least eight GCSE subjects:
Lavanae Burke

Iqra Butt

Rachel Dennis

Sonya Georgieva

Haifa Ghani

Shona Goolab

Amyra Haddouch

Sara Hussain

Alfyeen Liza Irsathibrahim

Chetna Khera

Pooja Patel

Shivani Patel

Maleeha Sohaib

Blessing Tarre
Rachael Whitehouse, Head of Year 11, said: "I am glad that many of these students have chosen to remain at Norbury Manor for their sixth form education. Their success is, in part, a reflection of the well-established relationships they have with their teachers and it makes sense to capitalise on this post-16 to ensure further success in the future."