Success for Emily-Rose at Jack Petchey's Speak Out Challenge!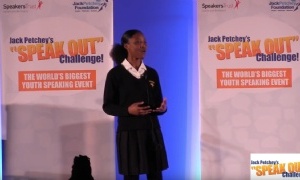 Student claims second prize at regional final
The annual contest - the world's biggest youth speaking event - is open to secondary students from state schools across London and Essex. Contestants receive training in communication skills
from
Speakers Trust
, the UK's leading public speaking charity
.
Emily-Rose delivered her
speech, concerning
black empowerment, with confidence and finesse (watch it below).
The winners were a
s follows: